The following is a guest post from Noah King, a review of the film Spectrum. Enjoy!
---
Spectrum: A Story of Mind
a review by Noah King
Spectrum is beautiful. Never before have I seen such a story that can simultaneously educate and emulate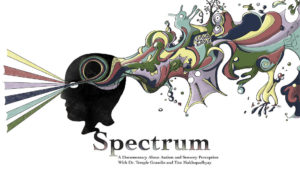 autism as a subject so well. It's everything I could have asked for, as someone diagnosed on the autism spectrum myself.
To think that a video like this could be constructed, and shown all over the country, is astonishing to me. As recently as a few decades ago, autism as a subject was still very much misunderstood and isolated – defined as an explicitly incorrect way of living life. To see the strides we've made as a population in such a relatively short amount of time is uplifting, enthralling. In a way, this video is a culmination of the suffering endured by those under autism's great umbrella of coverage and influence – individuals such as Temple Grandin, featured in Spectrum, who grew up in such a whirlwind of sensory issues and miscommunications, what have since sufficiently climbed the ladder of society, the hard way. It's these individuals that have spurred forth the research and development of treating and working with autism, as well as several other mental conditions, including ADHD and ADD. Spectrum is, in essence, our story, and our answer to the question, "What do you mean, you don't think that way?"
And this is where Spectrum is given its true strength – empathy and understanding. I have to give congratulations to the amazing editors, musicians, artists, sound designers, and other technical staff who worked on this film, for how they've helped to demonstrate autism to neurotypical persons. Autism is a sensory kerfuffle, a nebulous and omnipresent shifting of sights, sounds, smells, tastes, and feelings. And so too is Spectrum – we have bizarre animations, startling imagery, heightened and disturbing sounds, bizarre movement, the list goes on and on. All of this, featured between footage of persons with autism – the type of people usually dismissed from an off appearance, or a noticeable difference in intelligence or social skills. These are the experiences these people endure for most of their lives.
Most important is a breaking of stereotype – the people shown all exhibit widely different forms and variations of autism. We have developing children, and we have adults holding successful jobs. We see communication disorders, lack of eye contact, a severe response to stimuli, inability to speak, and, most importantly, we have people who have broken the mold – people like the martial artist featured in Spectrum, who have utilized their autism in their career. We have the potential to become so comfortable in our own skin, the line between the neurotypical mind and the divergent mind will blur. This is what Spectrum concludes on – having journeyed from developing children to adults of various dispositions, various careers. The effect is all at once demonstrative of autism, as well as demonstrative of how much we've come to learn about it.
This movie was phenomenal. It's an excellent primer concerning autism and autistic people for those unfamiliar with it. I'm happy to see it – the movie is proof of how far research on the Spectrum has advanced over the years. If it were up to me, Spectrum ought to be shown in all classes dealing with mental disabilities or development.